Description
Product information "Barista TS Smart Fully Automatic Coffee Machine
Don't worry about waking up the house when preparing your early morning coffee as the Barista TS Smart is the world's first fully automatic coffee machine to be awarded the Quiet Mark seal of approval for quiet coffee preparation.
Convenient recipe book feature
Do you love variety? Your fully automatic coffee machine fulfils all your coffee wishes. The four classics espresso, café crème, cappuccino and latte macchiato can be selected with just a light touch. Using the menu you can choose from another 17 varieties of coffee, such as flat white, ristretto, americano or espresso doppio.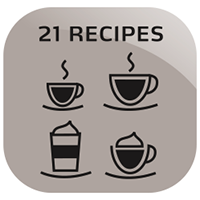 Not those beans? Then the others… The innovative Automatic Bean Select chooses the right beans for your favourite coffee from the two-chamber bean container, either automatically or in accordance with your wishes.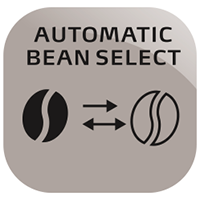 The IntenseAroma feature can be selected instead of the standard brewing process. The result is an especially intensive tasting coffee – without having to change the amount of coffee or water you use. This feature can be selected for all coffee specialities.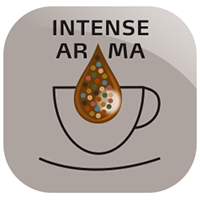 Struggle to remember all your favourite coffee recipes? Don't worry. Your fully automatic coffee machine remembers your coffee preferences. With the \"My Coffee Memory\" feature you can set your favourite coffee specialities without having to study IT. And before other people at home or in the office get envious, you can share the convenience – your machine saves the personal preferences of up to four people.
Original Preparation Process
For coffee specialities prepared with the correct order of ingredients, in accordance with the original Italien recipes: So for latte macchiato the espresso ist added only after the frothed milk and milk. For cappuccino, the espresso is poured before the frothed milk.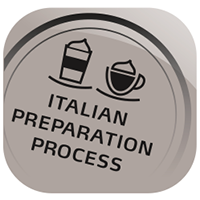 The Best Aroma System PLUS has some \"tricks\" in store. The \"Bean to Cup\" principle, for example, ensures that only the required amount of beans are freshly ground and used immediately. With Auto Empty Grinding*, the grinder is completely emptied. The Aromasafe® lid is specially sealed and tinted. This means that the coffee beans retain their flavour for a long time. And we also have an ace up our sleeve for the brewing process – the Aroma Extraction System (A.E.S.). The freshly ground coffee is moistened with water before the actual brewing process. Why? It's very simple, this helps the substances that give your coffee its flavour dissolve better. *Note: Despite automatic dispensing and grinding empty, there may be minimal mixing of the coffee beans after switching to another type of bean.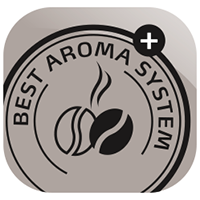 With the Melitta® Connect App many of the features on your fully automatic coffee machine can be managed with your smart phone. For example, appliance settings can be managed conveniently and personal My Coffee Profiles can be programmed and saved. Practical tutorials assist you with cleaning and maintaining the appliance. A special highlight with this app is that you can create your very own coffee specialities. The order in which the ingredients are poured into the cup, the amount of coffee, frothed milk and hot water and further coffee settings can be managed individually.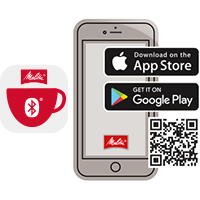 Quiet as a whisper grinder
You want to enjoy making your coffee in peace? This is no problem with the quiet as a whisper grinder, it is not only quiet but also especially quick.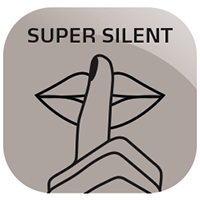 The high resolution TFT colour display allows for intuitive operation for maximum ease of use. The self-explanatory step-by-step instructions leaf you through the menu.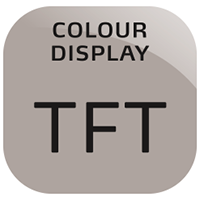 The Barista T Smart® impresses because it is so easy to use. The preset coffee varieties espresso, café crème, cappuccino and latte macchiato can be selected with just one touch. You can also select warm milk, frothed milk or hot water really simply and conveniently with One Touch.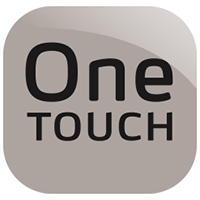 The innovative Touch & Slide feature allows you to simply and conveniently set and use your machine by gently touching the sensor panels.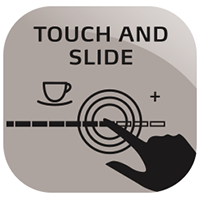 With Double Cup Mode you can make two cups of numerous coffee specialities with or without milk at the same time.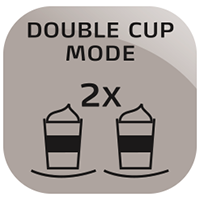 All-in-One outlet with LED lighting
Put down your cup, choose your coffee speciality … then go and find the biscuits? No problem, although there are separate nozzles for coffee, milk and hot water you don't need to move the cup while your coffee is being made. So that you can also use authentic, high latte macchiato glasses, the outlet is height adjustable up to 140 mm, without using special tools of course. There is a special feature for those who don't like bright lights in the morning – the integrated LED lighting lets you prepare your coffee in semi-darkness.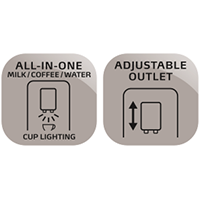 PRO AQUA Filter technology
If you use a Melitta® Pro Aqua Water filter then the Barista T Smart® only needs to be descaled once a year. The filtered water not only improves the quality and the flavour of your coffee, but also prevents limescale deposits building up in the water system. (This is based on brewing six 120 ml cups of coffee a day and changing the filter six times in accordance with the appliance specifications.)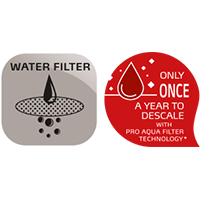 It would be nice if it was simple wouldn't it? With Melitta® it is… The whole brewing unit can be removed and is easy to clean. This makes the inside of the machine accessible too, so it can also be cleaned easily.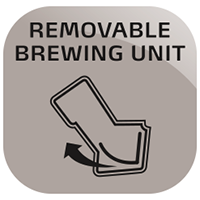 Removable milk system with with an external, dishwasher-safe milk container which fits in every fridge.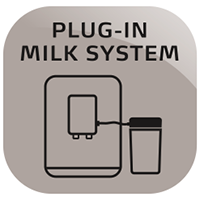 As well as the integrated programme to thoroughly clean the milk system, Easy Steam Cleaning means you can quickly and hygienically clean in between times: parts in contact with milk are cleaned with hot water and steam – if you prefer after every cup of coffee or call up separately using the menu.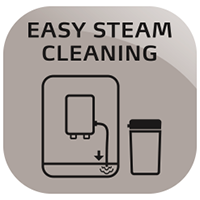 Automatic cleaning and descaling programme
The display automatically indicates when the machine needs to be cleaned or descaled. Step-by-step instructions guide you through the different steps of the programmes.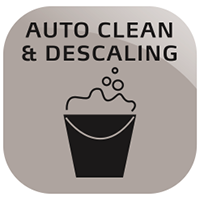 Contemporary energy efficiency
In addition to a programmable energy-saving mode, Melitta® fully automatic coffee machines have a practical Auto-OFF feature. This allows you to determine when your fully automatic coffee machine switches itself off automatically.
Of course, you can also disconnect the appliance from the power supply manually using the 0-watt swiTCH